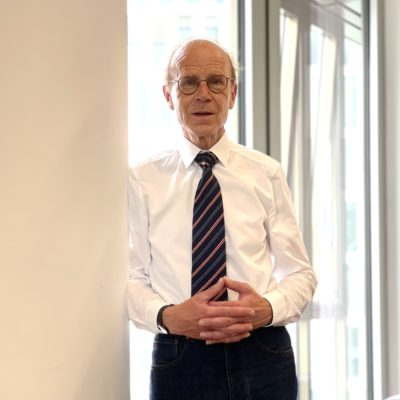 YPOG: Andreas Rodin from POELLATH joins as Associated Partner
Cate­gory: People

6. July 2022
Berlin — Corpo­rate law firm YPOG is expan­ding its fund struc­tu­ring prac­tice in Berlin and has streng­the­ned its team with Poellath foun­ding part­ner Andreas Rodin. The lawyer with a docto­rate in law joins the firm as an Asso­cia­ted Part­ner. Beyond fund struc­tu­ring exper­tise, he is known for his wealth of expe­ri­ence in regu­la­tory and tax law.
At YPOG, Rodin will conti­nue his work focu­sed on the struc­tu­ring of private equity and venture capi­tal funds and will be invol­ved in the trai­ning and deve­lo­p­ment of junior lawyers.
"With Andreas Rodin joining YPOG as an Asso­cia­ted Part­ner, YPOG is speci­fi­cally streng­thening its exper­tise in the area of fund struc­tu­ring. Espe­ci­ally our young colle­agues will bene­fit from his exper­tise and wealth of expe­ri­ence" says YPOG part­ner Fabian Euhus.
"I am very much looking forward to the exci­ting task and unique oppor­tu­nity to help shape the funds prac­tice of this dyna­mi­cally growing law firm. Being part of a young and ambi­tious team at YPOG allows me to contri­bute my expe­ri­ence gained over many years and to accom­pany espe­ci­ally the young colle­agues on their way", Andreas Rodin adds.
About Andreas Rodin

Andreas Rodin was a foun­ding part­ner of the renow­ned law firm Poellath+ in 1997, where he played a major role in buil­ding up the inter­na­tio­nally reco­gni­zed funds prac­tice. After leaving at the end of 2021, he briefly worked at Poellath spin-off Orbit. He was a board member of the German Private Equity and Venture Capi­tal Asso­cia­tion (BVK), where he was respon­si­ble for the legal and tax concerns of the German private equity sector. Since 2004, he has been consul­ted as an expert by the Finance Commit­tee of the German Bundes­tag on all legis­la­tive proce­du­res concer­ning private equity. Andreas Rodin is regu­larly named in leading and inde­pen­dent rankings as one of the most important experts for fund struc­tu­ring and tax advice in Germany.
About YPOG

YPOG is a specialty tax and busi­ness law firm prac­ti­cing in the core areas of Corpo­rate, Funds, Corpo­rate Liti­ga­tion, Tax, Tran­sac­tions, IP/IT, Notary Services, Banking + Finan­cial Services, FinTech + Block­chain, Family Busi­nesses and High Net Worth Individuals/Family Offices. The YPOG team advi­ses a wide variety of clients. These include emer­ging tech­no­logy compa­nies and family-run medium-sized enter­pri­ses as well as corpo­ra­ti­ons and private equity/venture capi­tal funds. YPOG is one of the leading addres­ses for venture capi­tal, private equity and fund struc­tu­ring in Germany. The firm and its part­ners are natio­nally and inter­na­tio­nally ranked by JUVE, Best Lawy­ers, Legal 500, Focus, and Cham­bers and Part­ners. Today, YPOG employs more than 100 expe­ri­en­ced lawy­ers, tax advi­sors, tax specia­lists and a notary in three offices in Berlin, Hamburg and Colo­gne. www.ypog.law .