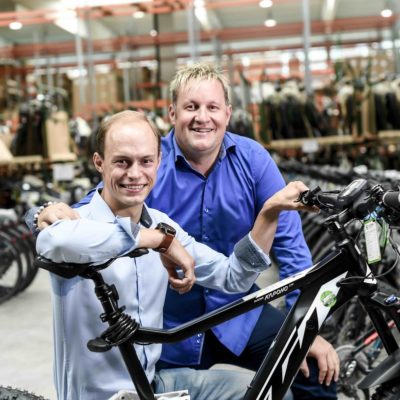 Greenstorm secures million-dollar investment from Bregal Milestone
Cate­gory: Private Equity

18. Decem­ber 2018
Berlin/ Kufstein — The Tyro­lean company Green­storm can be plea­sed about a multi-million invest­ment: the Euro­pean private equity firm Bregal Mile­stone invests a double-digit million amount. Green­storm is a fast-growing provi­der in the field of e‑mobility and alre­ady coope­ra­tes with nearly 1,000 hotels, retail­ers and busi­nesses in seve­ral Euro­pean count­ries. The company opera­tes a large fleet of e‑bikes and makes it possi­ble to offer e‑bikes and e‑cars to its custo­mers, guests and employees. Hotel busi­nesses in parti­cu­lar bene­fit from this by incre­asing their occu­p­ancy rates and gene­ra­ting addi­tio­nal reve­nue. Follo­wing the rental, the bikes that have been used by the custo­mers are compre­hen­si­vely serviced and resold to the specia­li­zed trade and private indi­vi­du­als. The inno­va­tive combi­na­tion of trends in e‑mobility and tourism ensu­res Green­strom a market-leading posi­tion and makes it one of the fastest growing compa­nies in Austria.
Coope­ra­tion to acce­le­rate development
Greenstorm's mana­ging direc­tors Richard Hirsch­hu­ber and Phil­ipp Zimmer­mann (photo) want to use the coope­ra­tion with Bregal Mile­stone to once again acce­le­rate the company's growth, drive expan­sion and further deve­lop the e‑commerce offe­ring. With the networ­king of e‑mobility and tourism, the company wants to be a leader in Europe. Green­storm has recei­ved seve­ral awards for its deve­lo­p­ment in its still young past — such as the German Inno­va­tion Award and the Tyro­lean Inno­va­tion Award. The team has been active in the mobi­lity sector since 2009, and Green­storm is curr­ently repre­sen­ted in Austria, Germany, Switz­er­land, Italy, Croa­tia and Slovenia.
"Bregal Milestone's invest­ment and hands-on support will help us achieve our ambi­tious growth targets. We are plea­sed to have found an entre­pre­neu­rial part­ner with a broad inter­na­tio­nal network. In the coming years, we will expand the successful Green­storm model to addi­tio­nal custo­mers and new regi­ons, extend our leader­ship in the field of elec­tro­mo­bi­lity, and build a strong cross-natio­nal e‑commerce presence," empha­size Greenstorm's mana­ging direc­tors Richard Hirsch­hu­ber and Phil­ipp Zimmermann.
"We are exci­ted to work with the Green­storm team to launch the next phase of growth. Green­storm offers a unique e‑mobility propo­si­tion to its custo­mers and the team's stra­tegy will drive strong growth in the coming years. Greenstorm's e‑commerce presence in the mobi­lity and travel space is parti­cu­larly promi­sing. We look forward to working toge­ther to further deve­lop this aspect of the busi­ness and deli­ver profi­ta­ble growth," commen­ted Jan Bruenn­ler, Mana­ging Part­ner at Bregal Mile­stone. The capi­tal comes from Bregal Milestone's €400 million fund dedi­ca­ted to invest­ments in high-growth Euro­pean compa­nies. The invest­ment volume is usually between 20 and 60 million euros.
About Green­storm
Green­storm Mobi­lity GmbH from Kufstein, Austria, provi­des its custo­mers with e‑bikes, elec­tric cars as well as char­ging stati­ons with an inno­va­tive rental concept. Greenstorm's custo­mers include hotels, compa­nies and retail­ers in Austria, Italy, Germany, Switz­er­land, Croa­tia and Slove­nia. The hotel indus­try gene­ra­tes addi­tio­nal reve­nue and achie­ves higher occu­p­ancy rates by working with Green­storm. At the end of the rental period, the company services the used top-of-the-line e‑bikes and offers them for sale. Here, Green­storm has set itself the goal of beco­ming Europe's largest dealer network for used top e‑bikes. With this concept, Green­storm addres­ses not only B2B custo­mers such as hote­liers and sports retail­ers, but also end customers.
Curr­ently, the company employs 59 people. In 2017, it achie­ved fourth place in the growth ranking of Austrian compa­nies. This year, Green­storm not only recei­ved the Tyro­lean Inno­va­tion Award, but was also hono­red with the German Inno­va­tion Award. In addi­tion, Green­storm was among the fina­lists of the EY Entre­pre­neur Of The Year compe­ti­tion in the "Start-ups" cate­gory. Inter­na­tio­nally, the company is on an expan­sion course and, in addi­tion to Austria, Germany, Switz­er­land and Italy, has also been active in Croa­tia and Slove­nia since 2018. www.greenstorm.eu
Consul­tant Greenstorm:
Reed Smith and Eisen­ber­ger & Herzog as legal counsel.
Consul­tant Bregal Milestone:
Shear­man & Ster­ling, Dorda Attor­neys at Law, EY, Deloitte and OC&C Stra­tegy Consul­tants supported.