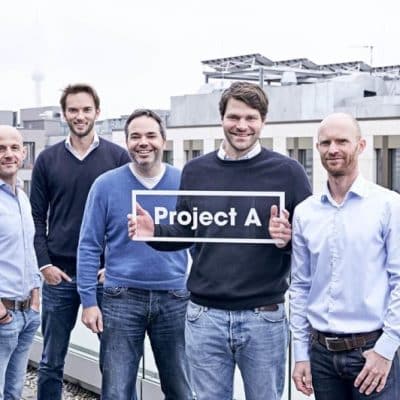 ExpressGroup: € 25 million from Project A and Insight Partners
13. April 2022
Hamburg/ New York/ Berlin — Hamburg-based FinTech company Express­Group, foun­ded in 2019, has raised a Series A finan­cing with a total volume of € 25 million. This was led by Project A Ventures and Insight Part­ners.
Using an AI-powe­­red backend system, Express­Group enab­les plat­form provi­ders such as accoun­ting firms, tax advi­sors and lawy­ers to process tax files within minu­tes. The system combi­nes machine lear­ning and auto­ma­tion capa­bi­li­ties with manual labor to ensure easier, faster and more accu­rate proces­sing of income tax returns. The first product, Express­Tax, offers users the ability to submit the requi­red data within 10 minu­tes and, on the other hand, provi­des process intel­li­gence and auto­ma­tion for tax profes­sio­nals. In less than 12 months, they have thus incre­a­sed to a total volume of receiva­bles of € 45 million.
Following on from its promi­sing growth in Germany, Express­Group is now turning its focus to the larger EU tax market. The addi­tio­nal funds will be spent on the company's inter­na­tio­nal expan­sion and the launch of further products in addi­tio­nal FinTech areas.

About Project A Ventures
Project A (photo: manage­ment team, © Project A) is one of the leading venture capi­tal firms in Europe with offices in Berlin and London.In addi­tion to appro­xi­mately $600 million in assets under manage­ment, Project A supports its port­fo­lio compa­nies with a team of more than 100 experts in soft­ware and product deve­lo­p­ment, busi­ness intel­li­gence, bran­ding, design, marke­ting, sales and recrui­t­ing. Project A was foun­ded in 2012 and has since suppor­ted more than 100 startups.
The port­fo­lio inclu­des compa­nies such as Trade Repu­blic, World­Re­mit, senn­der, KRY, Spry­ker, Cata­wiki and Voi.
About Express­Group
Express­Group wants to rede­sign fintech products for the working and middle class, star­ting with taxes. The goal is for ever­yone to be able to reclaim over­paid taxes from the tax office — regard­less of income, language barri­ers or know­ledge of the tax system. The company was foun­ded in 2019 by Maxi­mi­lian Lambs­dorff, Dennis Konrad, Konstan­tin Loeb­ner, Mehdi Afridi and Andreas Santoro. ExpressGroup's first product, "Express­Tax", has been on the market since 2021 and has already helped thousands of custo­mers who have never filed a tax return before to do so within minutes.



Advi­sor Project A Ventures:


YPOG

Dr. Frede­rik Gärt­ner (Lead, Corporate/Transactions), Part­ner , Tobias Lovett (Corporate/Transactions), Senior Asso­ciate , Matthias Kres­ser (Finance), Asso­cia­ted Part­ner , Dr. Bene­dikt Flöter (IP/IT), Asso­cia­ted Part­ner, Anna Eick­meier (Data Protec­tion), Senior Asso­ciate, Dr. Niklas Ulrich (Regu­la­tory), Asso­ciate, Stefan Rich­ter (Tax), Part­ner, Lukas Schmitt (Tax), Associate
Advi­sors to Insight Part­ners: Will­kie Farr & Gallag­her LLP
The Will­kie team was led by the part­ners Miriam Steets and Dr. Axel Wahl (both Corporate/M&A, Frank­furt) and inclu­ded part­ners Matthew Haddad (Corpo­rate M&A, New York) and Dr. Jens- Olrik Murach (Anti­trust, Brussels), coun­sel Wulf Kring (Tax, Frank­furt) and asso­cia­tes Dr. Tobias Gerigk and Nils Bock (both Corporate/M&A, Frankfurt).