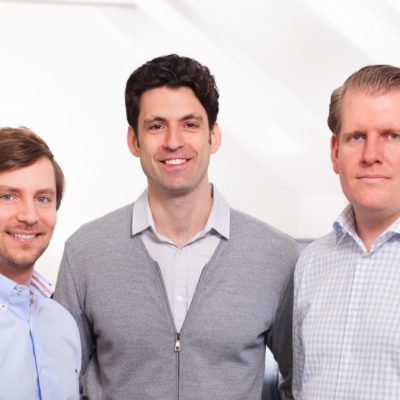 Zeitgold raises €27 million in Series B funding round
5. May 2020
Berlin/Tel Aviv — Zeit­gold, the intel­li­gent soft­ware plat­form for small busi­ness accoun­ting auto­ma­tion, raised €27 million in Series B funding. The round was led by new inves­tor Vintage Invest­ment Part­ners, a leading global venture firm. Exis­ting inves­tors Batte­ry­Ven­tures, HV Holtz­brinck Ventures, Saban Ventures, and btov Part­ners, as well as insurance company AXA Germany (AXA Inno­va­tion Campus) and Deut­sche Bank, also parti­ci­pa­ted in the invest­ment round. The new round brings the total fund­rai­sing of the German-Israeli tech company (with offices in Berlin and Tel Aviv) to more than €50 million. Photo Zeit­gold: Foun­ders Stefan Jeschon­nek, Kobi Eldar, Dr. Jan Deepen.
Zeit­gold will invest the new capi­tal to further deve­lop its proprie­tary AI-powe­­red soft­ware and conti­nue the strong growth of the busi­ness to ulti­mately become the leading accoun­ting auto­ma­tion plat­form in Europe. Today, more than 80% of all booking scen­a­rios are already auto­ma­ted by the arti­fi­cial intel­li­gence of the Zeit­gold soft­ware, which consist­ently surpas­ses human indus­try stan­dards for accuracy.
Using Zeit­gold, busi­ness owners can signi­fi­cantly reduce the amount of work requi­red to prepare their books and can there­fore devote more resour­ces to their core busi­ness. Busi­ness owners simply scan rece­i­pts and invoices using the Zeit­gold app and the soft­ware auto­ma­ti­cally matches these docu­ments with bank account tran­sac­tions. All docu­ments and data is then auto­ma­ti­cally trans­fer­red to their tax advi­sor. The tax advi­sor also uses the Zeit­gold soft­ware to auto­mate the majo­rity of stan­dard bookings and incre­ase effec­tive commu­ni­ca­tion thanks to paper­less proces­ses. As a result, tax advi­sors and their staff can focus on complex tran­sac­tions and compre­hen­sive consul­ting for their clients.
Since the previous funding round in early 2019, Zeit­gold has grown its busi­ness massi­vely on both sides of the plat­form. Zeitgold's SMB user base has grown by more than 300 percent, and with the launch of its tax advi­sor soft­ware in late 2019 Zeit­gold has success­fully respon­ded to the rising demand from tax advi­sors seeking seam­less book­kee­ping automation.
Stefan Jeschon­nek, co-foun­­­der and CEO of Zeit­gold, said, "We are thril­led to welcome Vintage as a new lead inves­tor in Zeit­gold. I'm proud of how much our tech­no­logy already simpli­fies the colla­bo­ra­tion between small busi­ness owners and tax advi­sors, allowing both parties to focus on what matters most to their busi­ness. Toge­ther with Vintage and our exis­ting inves­tors, we are now better posi­tio­ned than ever to estab­lish Zeit­gold as the stan­dard for book­kee­ping auto­ma­tion in Europe."
Asaf Horesh, Gene­ral Part­ner at Vintage Invest­ment Part­ners, added, "Zeitgold's cutting-edge tech­no­logy will radi­cally simplify the way milli­ons of small busi­ness owners and tax advi­sors work. We are deligh­ted to support Stefan, Jan, Kobi and their world-class team as they conti­nue to deve­lop their inno­va­tive tech­no­logy and to rapidly grow their business."
About Zeit­gold
Zeit­gold is an intel­li­gent soft­ware plat­form for small busi­ness accoun­ting auto­ma­tion. Using Zeitgold's AI-powe­­red web and smart­phone apps, busi­ness owners prepare their book­kee­ping digi­tally and highly auto­ma­ted in a frac­tion of the time. Tax advi­sors receive fully digi­ti­zed docu­ments and accu­rate booking sugges­ti­ons for more than 80 percent of their clients' tran­sac­tions, allowing them to fina­lize the books more effi­ci­ently. In addi­tion, tax advi­sors and their clients can colla­bo­rate digi­tally and effi­ci­ently using the Zeit­gold plat­form. Zeit­gold was foun­ded in 2015 by Stefan Jeschon­nek (MBA, Stan­ford), Jan Deepen (PhD, WHU) and Kobi Eldar (8200). Jeschon­nek and Deepen previously co-foun­­­ded fintech company SumUp. Eldar previously led a cyber­se­cu­rity unit in the Israeli Defense Forces and had leading roles in several Israeli tech compa­nies. Zeit­gold curr­ently employs 120 team members in Berlin and Tel Aviv.
About Vintage Invest­ment Partners
Vintage Invest­ment Part­ners is a global venture firm combi­ning fund-of-funds, secon­dary funds and co-invest, direct funds. With appro­xi­mately $2 billion under manage­ment across theUS, Europe and Israel, Vintage is inves­ted in several of the world's leading venture funds with expo­sure to appro­xi­mately two thousand tech­no­logy compa­nies. Vintage uses its unmat­ched network to connect star­tups across the world to hund­reds of corpo­ra­ti­ons seeking support in their digi­tal jour­neys, helping drive the ecosys­tem to maxi­mize its poten­tial. The Vintage part­ners are Alan Feld, Abe Finkel­stein, Amit Fren­kel, Asaf Horesh and Orly Glick along with 30 team members.