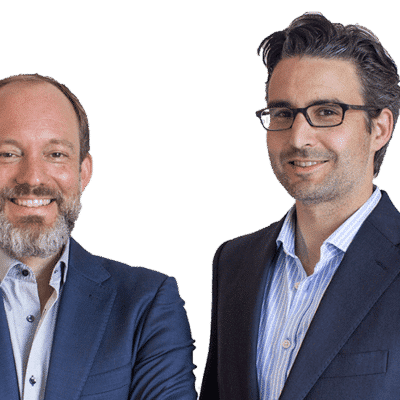 Taylor Wessing advises Vaamo on acquisition by Moneyfarm
Cate­gory: Deals

27. Novem­ber 2018
Frank­furt a. M. — German fintech company Vaamo Finanz AG, an online asset mana­ger based in Frank­furt, has joined forces with British compe­ti­tor Money­farm to form a close coope­ra­tion. In this context, Money­farm has acqui­red all shares in vaamo. Inter­na­tio­nal law firm Taylor Wessing, led by Fran­k­­furt-based part­ner Dr. Lars-Gerrit Lüßmann, provi­ded legal advice to vaamo on the transaction.
vaamo and Money­farm want to build a pan-Euro­­pean offe­ring in the field of digi­tal asset manage­ment toge­ther. Toge­ther, vaamo and Money­farm are active in three markets and can bundle market know­ledge and expe­ri­ence through the acqui­si­tion. Dr. Thomas Bloch (photo r.) and Dr. Oliver Vins (photo l.), foun­ders of vaamo, join the board of Moneyfarm.
vaamo is a digi­tal asset mana­ger with the goal of provi­ding custo­mers with simple, trans­pa­rent and cost-effec­­tive access to the capi­tal market and the vision of making private asset invest­ment better and easier. The asset mana­ger offers a wide range of products to assist custo­mers with wealth manage­ment issues — in parti­cu­lar through the sale of insu­rance and capi­tal market products. vaamo has been on the market since 2014 and was the first inde­pen­dent online asset mana­ger in Germany at the time. vaamo has been advi­sed by Taylor Wessing in its finan­cing rounds since its inception.
Legal advi­sors vaamo: Taylor Wessing
Dr. Lars-Gerrit Lüßmann, Michael Sinhart (both lead), Li Alena Oppen­auer (all Corpo­rate, Frank­furt), Dr. Bert Kimpel (Tax, Düsseldorf)
About Taylor Wessing
Taylor Wessing is the corpo­rate name of a number of law firms that provide advice and services to clients world­wide, as well as other enti­ties affi­lia­ted with them. Each law firm is a sepa­rate and inde­pen­dent legal company or part­ner­ship and at the same time a member of the Taylor Wessing Asso­cia­tion or affi­lia­ted with such a member. With more than 1,100 lawy­ers in 32 offices* in Europe, the Middle East and Asia, as well as two repre­sen­ta­tive offices in the US, we provide market-leading inte­gra­ted legal advice to our clients from the world's most dyna­mic and forward-looking industries.