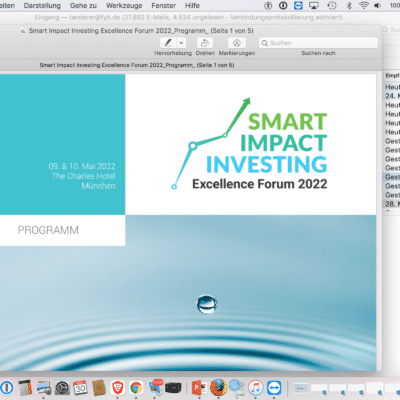 Smart Impact Investing Excellence Forum on 09. & May 10, 2022 in Munich
31. March 2022
Munich — The topic of sustaina­bi­lity is rapidly gaining in impor­t­ance among family offices, family entre­pre­neurs and foun­da­ti­ons. It is beco­m­ing a duty to address the issue of sustaina­bi­lity. The reason is not only the trend-setting regu­la­ti­ons of the Euro­pean Union, but also the pres­sure of society as well as the own know­ledge that some­thing has to be done.
Where better to get infor­ma­tion than at a confe­rence? Exchange ideas and ask ques­ti­ons directly with first-class spea­kers in a rela­xed atmo­s­phere at the » Smart Impact Inves­ting Excel­lence Forum on 09. & May 10, 2022 at The Charles Hotel in Munich, Germany «.
Please orien­tate yourself about the program
Program down­load

How can we invest respon­si­bly as inves­tors? — How can meaning­ful sustaina­bi­lity approa­ches be asses­sed within the nume­rous concepts on offer? How to achieve the appro­priate desi­red return for further wealth preser­va­tion and accumulation?
Talk to insi­ders who have a global over­view in the field of impact inves­ting, such as Dr. Andreas Nils­son, Head of Impact, Golding Capi­tal Part­ners, Andreas Jobst, Global Head of Macroeco­no­mic & Capi­tal Markets Rese­arch, Alli­anz SE, Prof. Dr. Dr. h.c. Hans Joachim Schell­nhu­ber or Bernd Wendeln, Inves­tor, Advi­sory Board Social Entre­pre­neurs­hip Akade­mie, Johan­nes Weber, Bundes­in­itia­tive Impact Inves­ting and others.
https://smartimpactinvesting-excellenceforum.com
You will receive special condi­ti­ons if you indi­cate "FYB-Special" in your registration!
The parti­ci­pa­tion at EUR 480 (excl. VAT) incl. 1 over­night stay. If you do not wish to stay over­night, please note this on your registration.
Registration/ Contact form: https://smartimpactinvesting-excellenceforum.com/#10
I would be happy to meet you at the event on 09. and May 10 to meet in Munich!