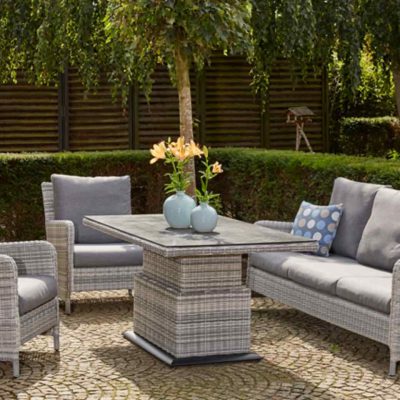 BHG Group takes over majority stake in online store Gartenmoebel.de
7. Septem­ber 2021
Düsseldorf/ Xanten — BHG Group AB has acqui­red 80% of the shares in AH-Trading GmbH from its foun­ders and a finan­cial inves­tor. AH-Trading GmbH, based in Xanten, is one of the leading German e‑commerce compa­nies for garden furni­ture in the middle and upper segments. With this acqui­si­tion, the BHG Group is further expan­ding its product range and busi­ness acti­vi­ties in Germany. The acqui­si­tion lays the foun­da­tion for further growth in the stra­te­gi­cally important German market. A team led by Düssel­dorf part­ner Dr. Martin Imhof provi­ded compre­hen­sive legal advice to BHG Group AB.
Foun­ded in 2004, AH-Trading today employs around 120 people. The company can look back on strong and profi­ta­ble orga­nic growth. AH-Trading is one of the fastest growing German e‑commerce compa­nies for garden furni­ture selling its appro­xi­mately 10,000 products all online via the plat­forms Gartenmoebel.de and Loungedreams.com. Both plat­forms are among the best-known online chan­nels for garden and outdoor furni­ture in Germany.
The foun­ders and mana­ging direc­tors Aron and Birgit Holter­mann will conti­nue the manage­ment of AH-Trading and deve­lop it further toge­ther with the support of the BHG team. Adam Schatz, Presi­dent and CEO of the BHG Group sees the acqui­si­tion of AH-Trading as a stra­te­gi­cally important step to further streng­t­hen BHG's presence in Germany. He is looking forward to expan­ding AH-Trading's busi­ness in the future toge­ther with the foun­ders under the umbrella of the BHG Group.
BHG Group AB is the number 1 e‑commerce company in the Nordic coun­tries and has a strong presence also in the rest of Europe and selec­ted markets outside Europe. The BHG group of compa­nies is one of Europe's largest online pure-play compa­nies in the home impro­ve­ment and furnis­hings sector. With over 100 online plat­forms and more than 70 show­rooms, the BHG Group offers nearly 1 million unique products and a compre­hen­sive range of home impro­ve­ment, leisure, furni­ture and furnis­hings. BHG is head­quar­te­red in Malmö, Sweden and is listed on the Nasdaq Stock­holm Stock Exchange.
Advi­sors to BHG Group AB: Heuking Kühn Lüer Wojtek
Dr. Martin Imhof (Corpo­rate Law/M&A, Lead Part­ner), Düsseldorf
Sebas­tian Poll­meier (Corpo­rate Law/M&A)
Tatiana Vorot­nit­s­kaya (Corporate/M&A), both Düsseldorf
Matthias M. Bosbach (Finan­cing), Düsseldorf
Beatrice Stange, LL.M. (anti­trust law), Düsseldorf
Michael Kuska, LL.M., LL.M. (IT), Düsseldorf
Astrid Luedtke (IP, data protec­tion), Düsseldorf
Fabian Schmitz (commer­cial tenancy law), Düsseldorf
Bernd Weller (Labor Law)
Dr. Chris­toph Gerhard (Labor Law), both Frankfurt
Birgit Schreier (E‑Commerce), Hamburg