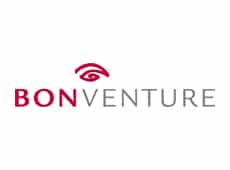 BonVenture Management GmbH
Ridler­straße 33, 80339 München
Tele­fon: +49–89‑2 00 01 25–30 | Kontakt: Anna Sophie Blistein · info@bonventure.de
www.bonventure.de
Profil
BonVen­ture supports compa­nies with a social or ecolo­gi­cal purpose,
genera­ting a measura­ble social impact with a proven and scala­ble business
model. A main criter­ion for a commit­ment of BonVen­ture is a social entrepreneur who initia­ted the project and is promo­ting it.
Services
BonVen­ture actively supports social entre­pre­neurs with capi­tal, network conta­cts and as a spar­ring part­ner with many years of expe­ri­ence as the first German impact VC and as a team consis­ting of former start-up entre­pre­neurs and stra­tegy consultants.
Beteiligung
Art der Beteiligung
Minority stake, direct/equity, shareholder loan, mezzanine capital
Finanzierungsstadien
Growth and expansion stage after market entry
Minimales Investment
€ 500.000
Investitionen
More than 50 impact investments so far, currently about 20 portfolio companies, e.g. Perfood, node.energy, Comgy, Bettermarks, Wald21, Innatura, Aaron.ai, emmy, discovering hands, Fenecon, OptiMedis, WegaTech Greenergy, Myo and Sira.
Capital Managed
Approx. € 80 m
Unternehmen
Management
Dr. Erwin Stahl · Angela Lawaldt · Anna Sophie Blistein
FYB-Investoren
FYB-Berater